LUCK'S WAGGYU BURGER SHOPPE
---
We are a burger speakeasy from the culinary team at Lucky Robot...operating inside of our sister brand ZEN Japanese Food Fast.
Partnering with local Peeler Farms in bringing the only wagyu burger shoppe to Austin. We also offer Katsu Burgers, a Japanese tradition and unique Asian condiments for a unique experience.
The Peeler family introduced the Wagyu and Akaushi breeds into their cattle herd. Akaushi cattle are colloquially call red wagyu. It's a Japanese cattle breed originating from Kumamoto, Japan. The breed existed exclusively in Japan until the mid-1990s.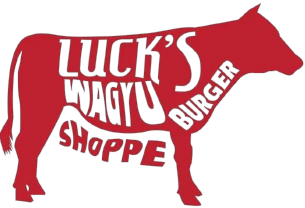 The Peeler's have ethically raised beef cattle for more than 100 years and believe the quality of their beef is unmatched in Texas. Their certified real wagyu cattle are raised on grass and finished with grain on the vast South Texas pastures creating a tender, flavorful beef. Their cattle are antibiotic free and are never given any growth hormones.
A great sandwich isn't just about the burger, but also the bun. So we have partnered with Sweetish Hill Bakery.